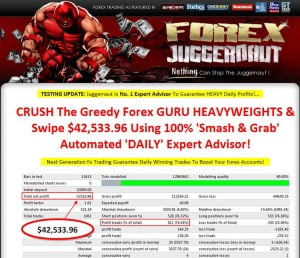 Forex Juggernaut is an EA with a 76.48% winning rate. It's pretty much like other Expert Advisors, with an exception that it says to use its own Juggernaut 'SWING' technology. It runs only with EUR/GBP and on 1 hour timeframe and is a fully automatic robot.
The website of Forex Juggernaut provides us with back-testing statement, and even without seeing live trading results there's a lot to be said. The average stop loss of the system seems to be about 80 pips, while the take profit is at about 10 pips. That wouldn't look good, but the system always closes the losing trades early and often closes the profitable trades early too. It's hard to see how it chooses them from the statements, but the bottom line is that the average loss is almost double the average profitable trade. That indicates a rather high risk/award ratio.
Honestly, I'm not convinced with Forex Juggernaut, first of all because there is no live trading proof provided, and secondly because of unfavorable default S/L and T/P – what if the EA is turned off with trades like that still open? And lastly, because back-testing shows a rather high risk/award ratio.
Some more facts:
Cost: $97
Guarantee: 60 days 100% Money Back
Currencies supported: EUR/GBP
Updates: Life-time free