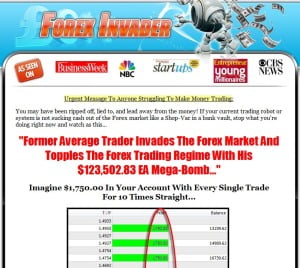 Forex Invader is yet another expert advisor promising to get you outstanding results and make you money on autopilot. I will skip all the promises it makes, most of them are exaggerated as usual for marketing purposes.
The system is an intraday and makes trades every day in a 5 minute time frame. It supports all major currency pairs and is based on the trend following strategy. Unlike other EAs, Forex Invader says to have extra filters to really filter down bad trades to achieve maximal accuracy. As a back test, it shows an accuracy of a bit over 90%.
The robot uses a number of indicators to find trades and it allows you to set a stop loss, take profit or a trailing order as an exit.
As a major drawback I would point out the absence of any money management system in its standard version – it leaves this matter for the user to take care of, which doesn't sit very well for Forex Invader image as a newbie friendly system. However, you can upgrade to an advanced version which does have money management built in.
Over all, Forex Invader tries to find the optimal auto trading system which would combine the advantages of scalper and a long term trader. It does have good back testing results, but I would encourage you to be very careful if you use the standard version as the lack of money management raises the risk.
Some more facts:
Cost: $97
Guarantee: 60 days 100% Money Back
Currencies supported: All
Updates: Life-time free