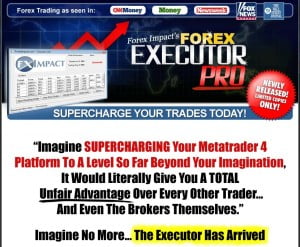 Forex Executor Pro is not just yet another automated Forex trading robot. It's a software that enhances the Meta Trader platform. But before I get into the how, I should tell you about the why. You see, there was a good reason for such a software to be created.
Since August 1st of this year (2009), NFA has hit the Forex community like a lightning from a clear blue sky. The new regulations have shocked every single broker in US. According to the new rules, the brokers can no longer accept OCO, stop loss, or limit orders. That's huge, because there is no trading strategy that would not use at least one of them. Not only that, most automated trading programs that use those orders are affected too.
Forex Executor Pro was developed to allow traders to place those orders without the broker even knowing it. The idea is simple – it replaces your manual work to execute orders at a given price as if the real OCO, stop loss, or limit orders were still functional.
So if you have found yourself in a situation where your broker disabled those orders or even moved you to offshore brokers, this is the solution for you.
Besides solving the new regulations issue, Forex Executor Pro adds some extra functionality such as trailing stops loss orders, allows you to forever place pending/target orders. And on top of it all, it adds a protection layer from your brokers in case they like to play "dirty". That's because all functionality is in the software and the broker sees it as if you opened and closed positions real-time.
In addition to that, there are email and SMS alerts that you can set up for your orders or targets.
Some cold hard facts before we wrap it up:
Cost: $97
Guarantee: 60 days 100% Money Back
Currencies supported: Any
Updates: Life-time free
While Forex Executor Pro is more applicable to US traders more, it all depends on where your broker is established. Obviously, if your broker is in the US, it doesn't matter if you're in Europe or elsewhere, you are or will be suffering from the regulations.
Besides the main goal to solve the problems created by the NFA regulations, Forex Executor Pro has some great features that you can use to make your trading easier regardless of your broker. That especially is true if you think your broker may be involved in foul play.