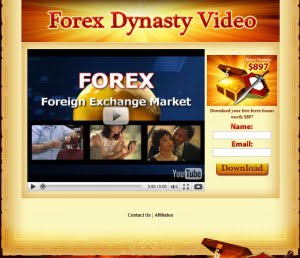 Forex Dynasty is a Forex Expert Advisor trading automatically on EURCHF pair on a 30 minute time frame. The technology behind the system takes into account market trends and is able to trade in trending as well as sideways markets.
The software is completely automated and works on MetaTrader 4 platform. It comes with a detailed manual and easy installer. The EA works out of the box with standard settings, however advanced traders can also tweak the settings themselves.
In addition to the standard EA, you will be offered an Elite EA and a customized trading strategy.
The authors claim to have tested the system for over 6 months to ensure its profitability.
Some more details:
Cost: $97
Currency pairs supported: EURCHF
Guarantee: Clickbank's 60-day 100% Money Back
Testing
I've had a chance to test the Forex Dynasty standard EA, so here are some results.
Back testing results on standard settings – 1 year
Back testing results on standard settings – 10 years
The EA trades with a 65 S/L and 25 T/P with standard settings and does pretty well in the back test with a 11% drawdown and 84% winning rate. The risk to award ratio with those settings is obviously too high so it hurts the chances to perform just as well in the long run, but as I have tweaked the settings to increase this rate to 1 (by increasing the T/P to 65), I still was able to get decent results.
Forward testing
Forex Dynasty trading on demo account since April 8th, 2010 (click the chart for more details).
Note that the EA trades rather infrequently and there's likely to be only a couple of trades per month. For example, in the backtest it made only one trade in March.