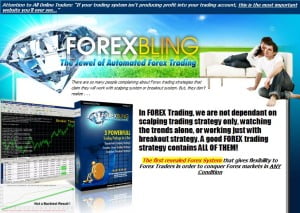 Forex Bling is an automated Forex trading system employing 4 types of trading methods – Trend Following Trading, Breakout Trading, Scalping Trading, and Grid Trading.
Separating its functionality into these four parts makes the software flexible and allows traders to adapt their own trading strategies. And as such, the package consists of 6 expert advisors:

Trend Following Trading – Freedom EA
Breakout Trading – Evolution and Fractal Wizard EA
Scalping Trading – Thunderbolt and Thunderstorm EA
Grid Trading – Grid Specialist EA
And so you can work with any of the advisors or trading methods, as well as distribute your money individually on the level of each sub-system. The very good thing about it is diversification and thus more stability in trading.
As far as the results, Forex Bling claims to have increased a $10,000 balance to $19,000 in a period of three months, and that it is constantly tweaked and updated. The support for the traders is provided through dedicated forums. In addition to that you get an access to a coaching membership.
The robot's default time frame is 15 minutes, so you can expect a decent amount of trades. It trades with all major currencies.
Forex Bling tries to stand out among other automated software with a feature rich package and a dedicated support.
Some more facts:
Cost: $99 every three months
Guarantee: 60 days 100% Money Back
Currencies supported: EUR/USD, GBP/USD, GBP/CHF, EUR/GBP, CHF/JPY,
USD/JPY, EUR/CHF, EUR/AUD
Updates: Life-time free