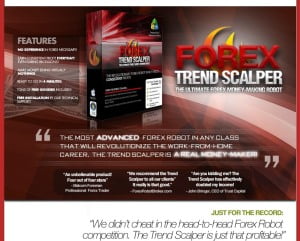 Forex Trend Scalper as the name suggests is an intraday trend scalper. One thing we can be sure of – it will make enough trades. The product comes with a set of extra 4 indicators for Meta Trader 4 to suit any market conditions and a starter's kit for those new in Forex.
Forex Trend Scalper can be used to trade either automatically or manually. It's comes with an EA as well as the indicators and strategies for manual trading.
There are a few things we can tell from the trading statement. First of all, it uses pending orders which is evident from the amount of canceled orders. The amount of canceled orders also shows the guesswork behind the system, lack of accuracy perhaps. Though it does equal out at the bottom line.
The target profit it aims at is 20-60 pips with the stop loss at 100-150 pips. That means a ~0.3 award-risk ratio, which means one loss can cost three profitable trades. That's a big risk it takes, but again it does even out at the end (at least as per the current statement) and looks like the authors of Forex Trend Scalper have a lot of trust in the system.
One things is for certain – any scalper is difficult to leverage in the long terms, so you should be aware of that. Any scalper strategy is aimed at fast short term profits, and introduces a high risk.
Some more facts:
Cost: $97
Guarantee: 60 days 100% Money Back
Currencies supported: All
Updates: Life-time free
Related Reading