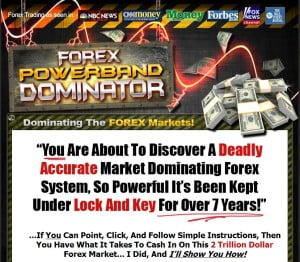 Forex Powerband Dominator is a manual Forex trading system that works on any time frame with any currency pair, and is good for scalping as well as long term trading.
The system is sold in a package of:
A comprehensive trading manual that teaches you everything about the Forex Powerband Dominator system.
Video modules that cover: platforming and charting, how to plot "fixed" and "dynamic" support and resistance areas, how to use price action and candle formations to give you a real edge in the markets, entry techniques, the best use of time frames, position management, and more.
The demonstration of the system on live trades.
The Cheat Sheets with the step-by-step entry rules.
The Forex Powerband Dominator website doesn't provide live trading statements, which would help us to make a better evaluation of the system before buying it, but it shows us two trades on the video. From those two videos it looks like the strategy is backed up with a good risk management – that's a big plus.
The winning rate of the system is said to be 70-80% depending on your level. That's good but I do miss the live trading statements that would serve as a proof, even if it is from the author who presumably would do better than an average trader.
Some more facts:
Cost: $129
Guarantee: 60 days 100% Money Back
Currencies supported: All
Updates: Life-time free
Related Reading