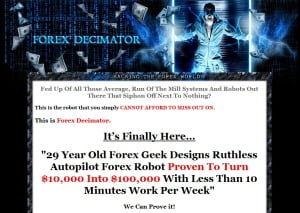 Forex Decimator is a new Forex trading robot that claims 92% success rate (only 14 losses out of 179 trades). That's a bold claim from the author who is new to this business – it's his first product. Nevertheless, software should be judged by its performance.
It trades on a 4 hour chart so the number of trades is rather scarce – about one a week. But slow doesn't mean bad, on the contrary, it has better odds to open better estimated positions. Forex Decimator is created specifically to trade under the current market conditions and the free updates that it comes with promise that you will get adjustments as the market condition change over time.
The software trades EUR/USD currency pair, again proving to be a very specific and focused Forex trading robot. That's only a good thing. It's one of very autonomous robots and requires 10 minutes of manual adjustment per week at most.
Besides the trading software and a manual, it also comes with a manual Forex trading strategy which you can also employ if you know more about Forex than just to use automated software.
There's another claim that the author makes – the software can increase your trading capital 10x. I must point out that this is nearly impossible, no matter how high the success rate is, and you should not seek to do it, especially when the target stop loss of the robot is as high as 200 pips.
The whole package is cheap comparing to the other software, so it's great for those who want to start trading.
Here are some cold hard facts about Forex Decimator:
Cost: $97
Guarantee: 60 days 100% Money Back
Currencies supported: EUR/USD
Updates: Life-time free
Average Profit Target: 300 – 500 pips
Avg Stop-loss Target: 200 pips
Related Reading