If you're a beginner, Easy Forex comes first to mind for a Forex broker, and not just because of the title having the word "easy", it really is. Easy Forex founded in 2003, is well established internationally with offices all around the world; while the main head quarters of the company are based in Cyprus (part of EU).
Before I continue allow me to add a little disclaimer. All information in this review is as per the official Easy Forex website on the day this article is published. They can change their services and website at their discretion, and should that happen I may not necessarily be aware of it to update this page. Please check the official site to confirm any details if you're making any financial decision.
With that out of the way, let's continue. Easy Forex is regulated by Cyprus Securities and Exchange Commission (CySEC) in EU, Commodity Futures Trading Commission (CFTC) in US, and Australian Securities and Investment Commission (ASIC). In other words, they have enough credentials to be trustworthy.
This broker makes the money in two ways – through the spread and a fee for trades that carry over to another day. If you're day trading, keep in mind that the fee is charged at 22:00 GMT (please verify this on the official site, as it may be different at the time you read this), so depending on your local timezone it may interfere with your day trading session.
The fees might seem high, but considering there's no interest, or transaction fees, it is quite reasonable.
Easy Forex offers three account types:
Mini with $200 minimum first deposit,  $5,000 minimum deal size and $25 minimum margin to risk.
Gold with $500 minimum first deposit,  $50,000 minimum deal size and $250 minimum margin to risk.
Platinum with $5,000 minimum first deposit,  $250,000 minimum deal size and $1,250 minimum margin to risk.
VIP with $10,00 minimum first deposit,  $500,000 minimum deal size and $2,500 minimum margin to risk.
In addition to different limits, the accounts offer different level of services, such as SMS alerts, technical analysis signals and personal dealer (not available in Mini plan), professional charting package (available in Platinum plan and up), and even custom technical analysis reports available for VIP account holders.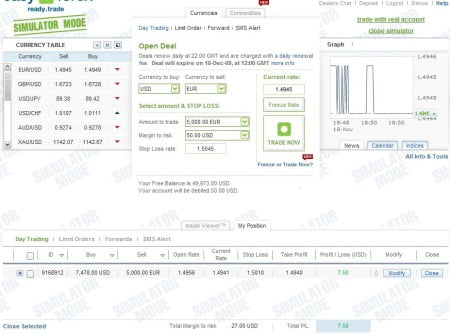 Unlike most brokers, Easy Forex tries to make trading really easy with their simple to use and beginner friendly web-based platform. It's simple and convenient, but it also means you can't use the popular Meta Trader platform, which is bad news for Forex robot users – the most you can do is use your Expert Advisor as signals software and manually open trades over at Easy Forex.
Giving up live trading on MT4 might be worth it, though, especially if you're a beginner. Opening account with this broker is really easy and you can be trading within minutes. The registration process is a simple two step process – all it takes is to enter your personal and account details, answer a few questions about the level of your income and finally verify your email address. No paperwork as with most brokers is required.
After you have your account open, you can deposit some money via credit card and start trading. Optionally, bank wire and PayPal deposit methods are available. A word of caution here, be careful if you use your credit card to fund your account – if due to careless trading you lose the whole account, your credit card may be charged automatically as a margin call. Even though you have to really screw up to have that happen,  it may be safer to use a bank transfer or PayPal to fun the account for maximum control over your money, if that's a concern to you.
Also, before you can withdraw the money, you will have to send some papers over to them due to financial regulations. It's a little annoying thing, but that's inevitable.
Once ready to trade, you can trade all major currencies as well as some commodities, such as oil and gold (availability depending on your location).
A trading simulation is available, which works as a demo account for you to test the waters. It's an exact replica of the real system so you can familiarize with it at no risk.
Simple charts are available to watch the market and you can place orders with Stop Loss and Take Profit, as well as Limit and Forward orders through a simple form. The process of opening a position is a two step process, since you have to place the order first with a pre-calculated stop loss, and then you can modify the order to adjust the stop loss and set your take profit. The Trade Controller tool provides you with a visual aid to set or modify stop loss and take profit by calculating potential profit scenarios. That's a nice feature to have.
The open orders are well presented and easy to manage. The full trading statements are also available under your account.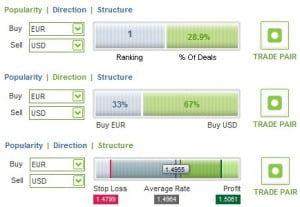 A very interesting feature is the Inside Viewer™, which gives you information about what other Easy Forex traders are doing. The information consists of three indicators – popularity, direction and structure for your selected currency pair. The popularity shows the fraction of the pair's activity in the whole broker's market (in other words, which pair is the most traded), while the direction shows which direction the traders are going today overall. The structure shows the average rate, stop loss and take profit. These bits of information may provide to be very useful to determine the day's market mood and how it changes through out the day.
Among other tools available in Easy Forex platform, there's a calendar of important economic events, live quotes, Forex news and analysis reports, videos, tutorials and so on.
The final verdict? Easy Forex is a trusted and a very user-friendly broker, the platform is as simple as it gets and if you want to start trading Forex right now, you can do that by opening an account within minutes with no tedious paperwork or waiting.
And finally, remember that trading Forex is risky, so before starting trading with a real account, consider and understand it and never risk what you cannot afford to lose.