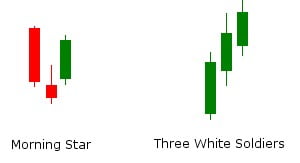 This is a guest post by Ahmad Hassam
Three stick candlestick patterns are more complicated than the single stick and two stick patterns. These patterns take three days to emerge as a valid signal. One such three stick candlestick trend reversal pattern is the Morning Star. However, a Morning Star and the Bullish Doji Star look almost the same but are in fact two different three stick candlestick patterns. You need to know how to distinguish between them.
In case of the Morning Star and the Bullish Doji Star Patterns, the first day is a large bearish candle, the second day in case of the Doji Star Pattern is a True Doji while in case of the Morning Star it is almost a Doji. The price action behind these two patterns is almost the same.
The first day is a down day with a large bearish candle forming as happens in a downtrend. The second day starts with a gap opening indicating that bears are still in action and are continuing to push the prices down. For the rest of the day, there is a tight contest between the bulls and bears and the open and the close price are almost the same. The third day is extremely bullish with the bulls pushing the prices up regaining the lost ground on the last two days. When either these two patterns appear on the chart, it means a trend reversal.
The other important bullish trend reversal three stick candlestick pattern is the Three White Soldiers Pattern. This pattern includes three bullish candles in a row. When you spot this pattern in a downtrend, it means a quick trend reversal.
In order to identify the Three White Soldiers, look for three consecutive up days in a downtrend. Now, if the open, close, high and low of the second day are higher than those of the first day and the open, close, high and low of the third day are higher than those of the second day, you have spotted a true Three White Soldiers Pattern.
The price action that forms this pattern is often dramatic and indicates a quick trend reversal. The appearance of this patterns means that the bulls have been in total control of the market for three consecutive day. The Three White Soldiers is considered to be a pretty strong trend reversal pattern. It is always a good strategy to put the stop at the low of the Three White Soldiers pattern's second day. This way, if there is some retracement after the new uptrend, you don't get out of the trade soon.
Learn these highly profitable Candlestick Patterns with this FREE 82 Page PDF Candlestick Guide. Master these High Probability Reversal Patterns that can get you in the trend much earlier than rest of the pro traders.