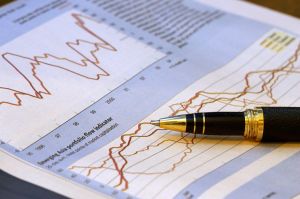 The challenge for many new forex traders is to identify the overall trend on the intraday charts. The 200 Exponential Moving Average (EMA) can solve the problem for them. 200 EMA is one of the most popular technical analysis indicators amongst forex traders.
In order to use the 200 EMA Forex Strategy open the 4 hour, 1 hour and the 15 minute charts on your MT4 Platform. Plot the 200 EMA on these 3 charts and color it red.
Tile the three charts in a vertical fashion so that you can view the three charts one above the other. Now, scroll through the various currency pairs like the EUR/USD, GBP/USD, USD/CHF, USD/JPY, USD/CAD, EUR/JPY, AUD/USD, NZD/USD, EUR/CHF or whatever pair you like to trade.
What you are looking for is a currency pair that bucks the trend on the 15 Minute Chart. Now, if the price is well above the 200 EMA on the 4 hour chart, it is well above the 200 EMA on the 1 hour chart but it is below the 200 EMA on the 15 minute chart, you have found the pair that is bucking the trend on the 15 minute chart. Suppose, this is the USD/JPY pair.
What this means is that the overall trend is up but the price action is temporarily going against the trend on the 15 minute chart and is currently in a retracement.
Search for a suitable entry point by looking for a candle signal like a hanging man or a hammer. For example, a hammer marks the reversal off a bottom or off a support level. When you see the hammer, it means a good signal for making a long entry into the trade.
Appearance of a hammer is a signal that the price action has exhausted its downward momentum and is about to resume its upward momentum. Similarly, when you see a hanging man, it is time to sell. You can identify these entry and exit point with other candlestick patterns too!
Practice this simple 200 EMA forex strategy on your demo account. This is an easy exercise and can be done once or twice daily. It will not take more than a few minutes each time. After a little practice, you will see how powerful this simple forex strategy is.
So, in nutshell when you find the price action bucking the trend on the 15 minute chart while it is on the opposite side on both the 4 hour as well as the 1 hour chart, sit up and watch carefully to grab the opportunity to make a few pips.
Related Reading