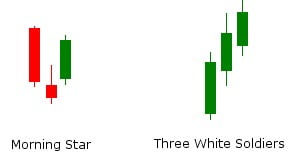 This is a guest post by Ahmad Hassam
Three stick candlestick patterns are more complicated than the single stick and two stick patterns. These patterns take three days to emerge as a valid signal. One such three stick candlestick trend reversal pattern is the Morning Star. However, a Morning Star and the Bullish Doji Star look almost the same but are in fact two different three stick candlestick patterns. You need to know how to distinguish between them.
In case of the Morning Star and the Bullish Doji Star Patterns, the first day is a large bearish candle, the second day in case of the Doji Star Pattern is a True Doji while in case of the Morning Star it is almost a Doji. The price action behind these two patterns is almost the same.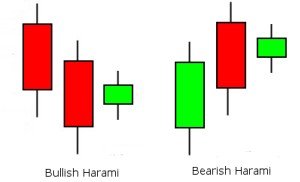 This is a guest post by Ahmad Hassam
Harami is an important trend reversal pattern. It is a two day candlestick pattern with the candle of the setup day longer than the candle of the signal day. Harami is the Japanese word for pregnant. If you draw this a pattern, it will look like a pregnant woman. The pattern can be bullish as well as bearish.
In case of the bullish harami, the first day is a bearish candle that occurs in a downtrend. On the second day, bulls enter the market and start moving the prices higher but not with much success as the price close lower than the open of the first day and the first day's high is not surpassed. However, when this pattern appears it culminates in a trend reversal.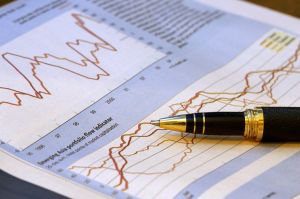 This is a guest post by Ahmad Hassam
Moving averages are one of the most simplest yet the most widely used technical indicators. You will find almost every other trading system using moving averages in one form or another. Moving averages are just the average of the closing prices of a currency pair over a certain period of time.
Moving averages can be useful when you are looking to confirm a trend. The first rule of thumb when using moving averages is that when the currency pair price is above the moving average, an uptrend is in place. When you combine this with a bullish candlestick pattern you can get profitable entry and exit signals. Similarly, when price action is below the moving average, a downtrend is in place.