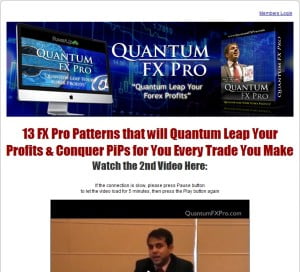 Quantum FX Pro by Kishore M is a Forex trading course and a manual trading system.
Quantum FX Pro teaches Forex trading from the very foundation and offers a trading strategy to follow. The system consists of recognizing 13 profitable chart patterns, the exact entry and exit strategies, money management and decision making. The course aims to take a complete beginner to a successful trader.
The course covers such aspects as choosing a broker, using MetaTrader 4 platform, using the top Forex news sources, as well as a quick profit technique that would help a student start accumulating pips right away.
More details:
Cost: $47
Currency pairs supported: All major currency pairs
Guarantee: Clickbank's 60-day money back guarantee
You may also be interested in:
If you have experience with this product, please leave your feedback or review below. Help others to decide, every entry helps.