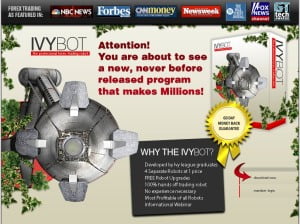 IvyBot is a new automated Forex trading software that claims a 94% success rate. What's so special about this software is that it consists of four separate robots for each currency pair: EUR/USD, EUR/JPY, USD/CHF, USD/JPY. These robots employ tested and proven Forex trading strategies. The algorithm of trading system programmed into Expert Advisors includes trend analysis, weighted price action, technical price patterns, market liquidity, volatility, and forward projection scanning.
IvyBot in preferred settings focuses on shorting and runs on 1H chart. That means only 3-10 trades a week. This means it is slow but reportedly quite accurate. You can see a live IvyBot trading account statement: click here. At the time of writing this review it's well into the profit, with 2 losing trades out of 9, which accounts for a 78% success rate, baring in mind though that data is statistically insignificant (too few trades to get a good grasp of the real success rate).
Additionally, the software includes Market Watch Custom indicator,  Session Profile Custom Indicator, $500 Trading Account Topup Bonus, and life-time updates.
It's worth mentioning that IvyBot is very hands-off robot, meaning you don't have to constantly tweak it. Nevertheless, it has adjustable settings which will allow you to increase the trading freqency quite easily (be careful, though, as the frequency may likely affect the success rate negatively).
What makes this Forex trading software interesting, besides the great record so far, is its focus on currency pairs – each pair has its own dedicated robot, as mentioned earlier in this review. This dedication gives a reason to believe in the robot's ability to trade its pair with utmost success.
To conclude the review, here are some cold hard facts about IvyBot:
Cost: $149.95
Guarantee: 60 days 100% Money Back
Currencies supported: EUR/USD, EUR/JPY, USD/CHF, USD/JPY
Updates: Life-time free
Average Profit Target: 15 Pips – 110 Pips
Avg Stoploss Target: 60+ pips
You may also be interested in:
If you have experience with this product, please leave your feedback or review below. Help others to decide, every entry helps.