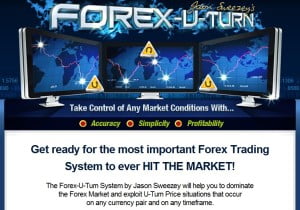 Forex-U-Turn is a manual Forex trend trading system by Jason Sweezey (his last product was 4X Pip Snager).
The system is a trend trading system based on current market price and U-turns in the market. A U-turn is basically a trend reversal, and the strategy is focused on identifying these reversals early and catching the new trend. Forex-U-Turn identifies these U-turns by using 3 indicators and a template that according to Jason is simple to use and minimizes human judgment requirement.
Forex-U-Turn is endorsed by Vladimir Ribakov who is one of the few respected and trusted experts in Forex community and doesn't endorse just anything. That is a big plus for this system.
Other details:
Cost: $99
Currency pairs supported: All major currency pairs
Guarantee: 60-day money back guarantee by Clickbank
You may also be interested in:
If you have experience with this product, please leave your feedback or review below. Help others to decide, every entry helps.