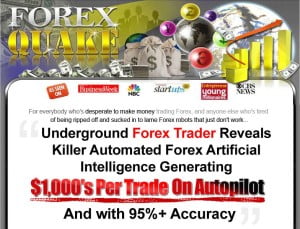 Forex Quake is an Expert Advisor based on a new artificial intelligence technology and is made of two distinctive systems (basic and advanced). One of them trades in short term, while the other trades long term. These two parts that constitute the full system are supposed to ensure quick profits as well as stay profitable in the long run.
The software is fully automated and is easy to install, the trading system is secured to lock profits and avoid reversals, it claims to work under any market conditions. It works with 4 and 5 digit brokers and supports your custom money management rules, as well as provides its own automated management. The system claims to keep a 95% winning rate with low drawdown.
Now the bad part about Forex Quake is that they don't show much proof on the website whatsoever. The screenshots of trading statement fragments have little information and have the stop loss and take profit values blurred out, so there's no way to get an idea of how it works.
Some more details:
Cost: $97 for the basic EA, and $77 for the advanced EA
Guarantee: 60 days 100% Money Back
Supported currencies: All major
You may also be interested in:
If you have experience with this product, please leave your feedback or review below. Help others to decide, every entry helps.