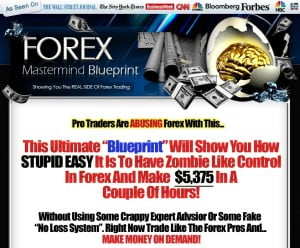 Forex Mastermind Blueprint is a complete Forex trading course for beginners teaching every aspect of Forex with a goal to turn beginners into successful traders.
The course was created based on a research that 85% of new traders lose up to $2,000 in their first month. It was created to solve this problem and teach the beginners everything they need to know about Forex to trade successfully, without having to rely on EAs or Forex systems.
Forex Mastermind Blueprint consists of 13 video modules that teach you how to trade step by step, it shows different methods and strategies of Forex trading, from basic to advanced – and all that leads to creating your own personal profitable Forex trading blueprint. The size of the course is about 2 weeks on average to complete.
Here's what Forex Mastermind Blueprint covers:
The basics and understanding Forex
Understanding Forex market movement
Using support and resistance
Understanding chart patterns
Using indicators
Money managment
Creating your own trading blueprint
Using currency correlation
Additional details:
Cost: $97
Currency pairs supported: All major currency pairs
Guarantee: Clickbank's 60-day money back guarantee
You may also be interested in:
If you have experience with this product, please leave your feedback or review below. Help others to decide, every entry helps.