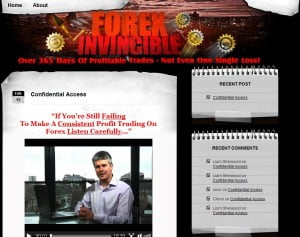 Forex Invincible is a Forex signals software which provides frequent trading signals on different time frames and on any major currency pair. The software is built to be easy to use and comes with a manual that explains not only how to use it but also how its strategy works.
The creators claim that Forex Invincible was accurate for all past year due to its advanced Market Reactive Technology. Unfortunately no solid proof is present to prove it, so I would take their accuracy claims with a grain of salt.
Besides the signals software, Forex Invincible also offers an automated robot version which puts the signals to trades automatically, as well as a manual trading system with several indicators for an extra price.
Some more details:
Cost: $97
Currency pairs supported: All major
Guarantee: Clickbank's 60-day 100% Money Back
You may also be interested in:
If you have experience with this product, please leave your feedback or review below. Help others to decide, every entry helps.