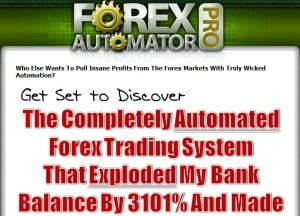 Forex Automator Pro is a 100% automated Forex trading scalper. It trades mainly on EURUSD 1 minute timeframe chart.
As a scalper it is very risky. If you pay attention to the back-test statements, its average loss can be as high as about 44 times bigger than the average winning trade. Even with a very good winning rate that it has (no loss in a 1 year backtest), it still imposes a high risk. That something to be aware of.
Forex Automator Pro also highlights no requirements to set manual settings which makes it easy to use and a broker stealth mode, as well as displaying important broker and trading information on screen.
Other details include:
Cost: $97
Currency Pairs Supported: EURUSD
Guarantee: Clickbank's 60-day money back guarantee
You may also be interested in:
If you have experience with this product, please leave your feedback or review below. Help others to decide, every entry helps.