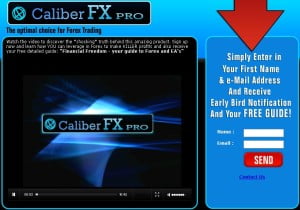 Caliber FX Pro is a Forex robot that focuses on risk minimization and diversification – the system itself is a package of 3 robots trading on 3 currency pairs.
The software was designed by professional Forex traders and programmers on a model based on complex math and statistics. According to the authors, that alone is what makes the software stand out. It is based on trading strategies that have been tested and proven to make multiple hundreds of pips in a row with no loss. The system was tested on back and forward testing (note that they don't say anything about live trading, though).
Caliber FX Pro features:
Easy use, no experience or technical skills required
Easy installation
Built-in capital conservation mechanism protecting the money and enabling fast recovery from loss
Trader's Manual with important information and tips for the traders
Software optimized for the unique market conditions of 2010-2011
Technical support from a financially qualified team
Free updates to the software as they come
Some more facts:
Cost: $97
Guarantee: 60 days 100% Money Back
Updates: Life-time free
You may also be interested in:
If you have experience with this product, please leave your feedback or review below. Help others to decide, every entry helps.