Forex Brokers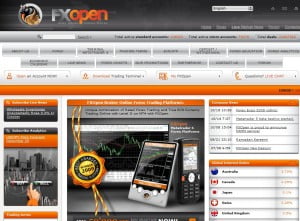 Before writing a review of FXOpen I've researched a lot of Forex brokers that use MetaTrader 4 platform and they were one of the most talked about brokers with a very decent feedback. Furthermore, FXOpen is used by traders who trade with Expert Advisors and realizing that most readers of this site are interested in auto trading, it was a nice fit. The only problems that people seem to be having are with scalping – the servers sometime seem to be having delaying and an occasional re-quoting is happening. So if you're looking for a broker for scalping, FXOpen may not be ideal. Other than that most traders seem to be having a good experience, so I went ahead and took a closer look at this broker.

If you're a beginner, Easy Forex comes first to mind for a Forex broker, and not just because of the title having the word "easy", it really is. Easy Forex founded in 2003, is well established internationally with offices all around the world; while the main head quarters of the company are based in Cyprus (part of EU).
Before I continue allow me to add a little disclaimer. All information in this review is as per the official Easy Forex website on the day this article is published. They can change their services and website at their discretion, and should that happen I may not necessarily be aware of it to update this page. Please check the official site to confirm any details if you're making any financial decision.