Archive for November, 2009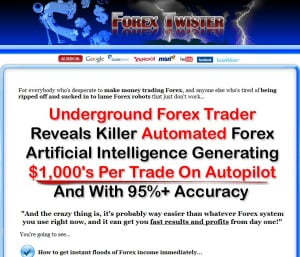 Forex Twister is new long term Expert Advisor that among its unique features declares a 95% success rater and Artificial Intelligence under the hood. The robot works with all major currencies and any type of Forex broker that works with MetaTrader 4 platform.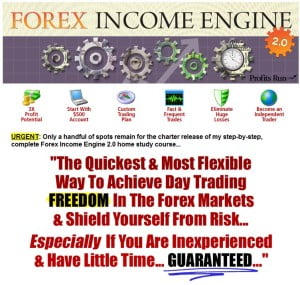 Forex Income Engine 2.0 is a limited release of a Forex home study course. The course caters to beginners as well as the advanced traders. In a nutshell, the whole course consists of:

If you're a beginner, Easy Forex comes first to mind for a Forex broker, and not just because of the title having the word "easy", it really is. Easy Forex founded in 2003, is well established internationally with offices all around the world; while the main head quarters of the company are based in Cyprus (part of EU).
Before I continue allow me to add a little disclaimer. All information in this review is as per the official Easy Forex website on the day this article is published. They can change their services and website at their discretion, and should that happen I may not necessarily be aware of it to update this page. Please check the official site to confirm any details if you're making any financial decision.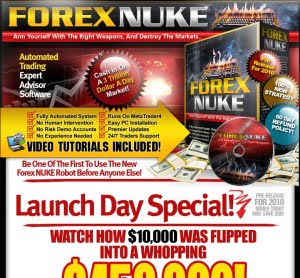 Forex Nuke is a new EA software advertised as EA built with a brand new strategy for 2010. The features of this robot are more or less the usual – low investment requirement, it works on MetaTrader 4 platform, it works on demo accounts, it doesn't require experience and has video tutorials to give you a start. I'll skip the details as they aren't that important as long as it works.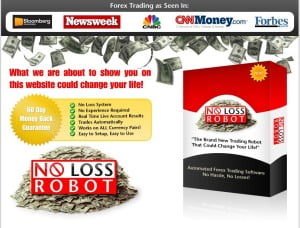 No Loss Robot comes out of the blue and announces that it can trade 100% successfully and 100% automatically. That's certainly an outrageous claim – I'm yet to see a system that is really flawless – that's impossible. Could it be a play on numbers? You be it is.
But first, the features. No Loss Robot has grown from a manual trading system which was based on trend spotting. The authors claim to have had great success with their system and they have decided to automate the process. As a result the robot is trend based too.